Show Coordinator Chosen for SOQHA Pre-Madness and Madness
Posted: February 2nd, 2019
LAFAYETTE, IN – John Boxell has been named Pre-Madness and Madness Show Circuit onsite Coordinator, it was announced by Judd Paul, President, Southern Ohio Quarter Horse Association (SOQHA).
In his new role, Boxell will serve as the onsite show coordinator for SOQHA by representing the organization at the Pre-Madness and Madness Show circuits and liaison with An Equine Production who manages the shows.
"John is a well-respected trainer and judge throughout the industry with an impressive track record," said Paul. "By adding John as the primary onsite representative of SOQHA, the organization's board of directors will step back from the daily operation of the circuits while continuing to focus on enhancing the exhibitor experience."
Boxell will maintain his role as Manager of Richland Ranch in Auburn, Illinois. John is an accredited judge with the American Quarter Horse Association, American Paint Horse Association, National Snaffle Bit Association, and the World Conformation Horse Association. He also serves as a National Director to the American Quarter Horse Association.
The Madness is one of the AQHA Top 10 shows of the year. The schedule is new this year with more leveled classes and added money classes including The Equine Chronicle 3 & Over Novice Horse Western Pleasure, 3 & Over Maiden Horse Western Pleasure, and the 4 & Over SOQHA Trail Slot class. All of these classes this year, will be NSBA approved.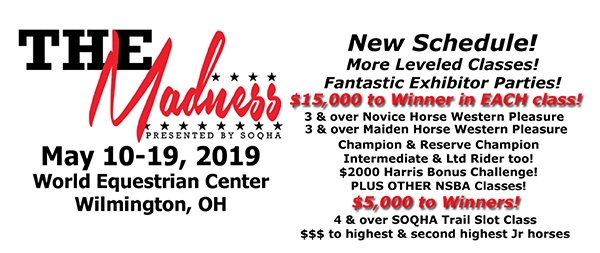 The Southern Ohio Quarter Horse Association was started in 1963 and has been an active and progressive organization since then. The object of SOQHA is to promote in all ways the interests of Southern Ohio Quarter Horse owners, to increase the number of Southern Ohio breeders and owners of quarter horses registered by the American Quarter Horse Association, and to help advance Ohio to the position of the leading Quarter Horse state.
More information about the Pre Madness and the Madness can be found online at www.anequineproduction.com.