2017 SOQHA Challenge Recap- Results and Photos
Posted: May 15th, 2017
By: Brittany Bevis, The Equine Chronicle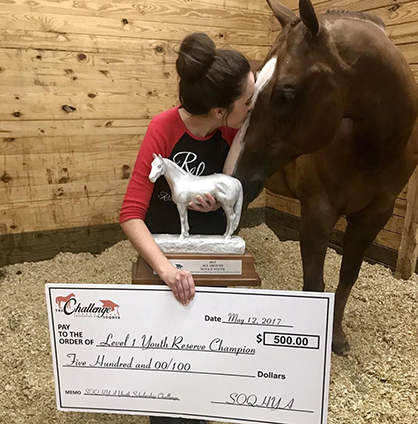 Novice Youth Reserve Champion Scholarship Winner- Natalie Hilty with Rock On Mr Cool. Photo courtesy of Emma Brown. 
If the first portion of the Southern Ohio Quarter Horse Association's two-week Challenge/Madness Show Series was any indication of what's to come, they're expecting another record turnout for 2017. The Challenge took place May 12-14 in Wilmington, Ohio and was met with a fantastic reception, with entries up more than 1,400 per judge, across all divisions, according to Mark Harrell Horse Shows. Today is an off day for competitors as preparations begin for the SOQHA Madness that kicks off tomorrow and will continue throughout the week.
During the Challenge, an estimated $10,000 in scholarship money was awarded to youth competitors. The winner of the Small Fry division was Emma Gore with He's Suddenly Handsom, receiving $1,000. The Reserve Champion was Addison Icenhour with Lovin This Potential, receiving $500. The Novice Youth Champion was Faith Dilillo with Willy Quite Precious, receiving $1,000. The Reserve Champion was Natalie Hilty with Rock On Mr Cool, winning $500.
In the 13 and under division, the winner was Alexia Tordoff with Blazing Hot N Gold, receiving $1,500. The Reserve Champion was Alexa Black with Big Country Kruzer, receiving $1,000. In the 14-18 division, Ellexxah Maxwell won with Zips Bossy Chip, receiving $1,500. The Reserve Champion was Kamiah McGrath with They Call Me Jake, receiving $1,000. In the Second Chance division, Sydney Hoffa rode You Bet Im Sumthin to win $1,000. The Reserve Champion was Carolyn Craddock with Batt In The Night, receiving $500.
Check out some of the huge class sizes that are expected to remain high this week at the Madness.
L1 Western Riding- 16
Junior Western Pleasure- 18
14-18 Western Pleasure- 18
Senior Western Pleasure- 19
Senior Western Riding- 19
L1 Showmanship- 19
Select Horsemanship- 20
Amateur Performance Halter Geldings- 20
L1 Amateur Western Pleasure- 23
14-18 Showmanship- 24
L1 Youth Horsemanship- 31
14-18 Horsemanship- 32
Amateur Western Horsemanship- 31
Amateur Showmanship- 36
L1 Trail- 47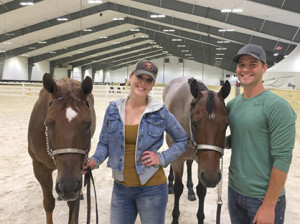 Click here to view show results.
High Point Results:
Small Fry
C – Hes Suddenly Handsom & Emma Gore
R – Lovin This Potential & Addison Icenhour
L1 Youth WT
C – Swiss Miss Cocoa & Evelyn Balderaz
R – AA Certain Charlie & Evan Merklin
(Also reserve – Shout Out – went to third tie break – Good Alibis & Kennedy Dorsey
Novice Amateur
C – Always A Good Time & Maggie Kirian
R – Amazin Dream & Jackie Bauer
Amateur
C – Version Of Goodbar & Sarah Lebsock
R – Stretch Machine & Michelle Forness
Select
C – One Hot Royality & Wendy Katz Brodersen
R – McRange & Dan Riegle
Novice Youth
C – Rock On Mr Cool & Natalie Hilty
R – Selection So Gold & Kori Kile
13 & under
C – Blazing Hot N Gold & Alexia Tordoff
R – Nearly Chocolate & Isabella D'Onofrio
14-18
C – They Call Me Jake & Kamiah McGrath
R – Zips Bossy Chip & Ellexxah Maxwell
Open
C – Some Hot Potential – Emma Brown owner
R – Always The Best Man – Katie Grossnickle owner
EC Blog by: Emma Brown
The Challenge has come to a close! Many competitors accepted the challenge of competing for All-Around and Scholarship prizes. Pictured with their prizes are Ellexxah Maxwell, who won Reserve 14-18 All Around and Champion 14-18 Scholarship Challenge, Natalie Hilty, who won Champion Novice Youth All Around and Reserve L1 Youth Scholarship Challenge, and Alexia Tordoff, 13 & under Youth All Around and Scholarship Challenge winner!
Congratulations to these girls and all of the other winners! Best of luck to everyone showing at the Madness!
Special thanks to our EC Bloggers, Emma Brown and Eric Mendrysa, for their candid photos from the show.